Welcome to the Disney Magic Kingdoms Wiki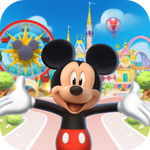 All you need to know about the Disney Magic Kingdoms game by Gameloft. Learn all the details on your favorite attractions, characters and decorations, and get all the information you need on events or quests.
Relive the thrill of Disney parks and create the most fantastical park of your dreams, featuring beloved characters from Mickey Mouse to Buzz Lightyear. When Maleficent casts an evil spell on the Kingdom, ridding it of all its powerful magic, can you help bring it all back?
Latest Events

For more events, click here

Latest Video

For more videos, click here

Latest Characters

For more characters, click here

Latest Updates

4.4.0|Coco Event, The Bride Update 15 October 2019
4.3.0|Snow White Part 2, Tangled Part 3 Update 10 September 2019
4.2.0|Finding Nemo Event, Thrill Level Update 6 August 2019
4.1.1|DuckTales, Enchantments Hotfix Update 11 July 2019
4.1.0|DuckTales, Enchantments Update 2 July 2019
4.0.0|Toy Story 4 Update 21 May 2019

For more updates, click here
Defeat the Villains
Act 1 - Stand up to Pete

Send up to 3 characters to Stand up to Pete a total of 5 times and unlock Tomorrowland in the Goofy the Brave quest!
Act 2 - Defeat the evil Emperor Zurg

Send up to 4 characters to Defeat the evil Emperor Zurg a total of 10 times and unlock Fantasyland in the Put an End to This quest!
Tip of the Day
Grant More Wishes

Did you know that Happiness decays over time? That's why it's important to visit your park often, and grant as many Wishes as possible. Visitors will Wish for rides and characters, and when you grant their Wishes, your Happiness will increase!

For more tips, click here

Complete quests to progress through the story unlocking more attractions, characters, and even more story, it all starts with Try Not to Panic.
Community content is available under
CC-BY-SA
unless otherwise noted.